---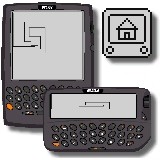 Sketch 1.1.0
Remember Etch A Sketch, well it's back on the RIM. Just use your thumb wheel and start drawing. One small note by the way, you don't have to shake it over you head unles it makes you feel better. It will however shake it self when you clear the screen. (download)

---

RIM Reader 1.3.0
RIM Reader is your mobile text reader for the RIM 950/957/850/857. Just paste any text into the loader and transfer the document to your RIM with the click of a button. Store as many documents as you wish. Your only limit is the memeory of the device. And by the way, if you are thinking of loading War and Peace onto your 5 meg handheld? Go for it, it fits. Add book marks to go back to where you were reading.



Purchase RIM Reader : $15.00 USD

To purchase RIM Reader on-line you can order direct from Handango.
Download the software now.
Proceed to Handango, select the version you wish and add it to your cart
.
Make sure to include your PIN number with your order or send us an email at rim@underwaterlabs.com with your device PIN number. To find your PIN number run RIM Reader and select [About] from the maim screen menu. Scroll down to the bottom of the screen and you will find "PIN : 12345" except "12345" will actually be your number. We need this number to generate your unique registration code.
After payment is confirmed we will send you your registration code via email.
Enter this code into the RIM Reader registration screen from the about screen.
---
Electronic Books
The following are a selection of titles that have been converted into text and Microsoft Reader documents ideal for viewing on a RIM, Palm, Windows CE, or Pocket PC device.

20000 Leagues Under the Seas by Jules Verne
A Journey to the Interior of the Earth by Jules Verne
A Study in Scarlet by Arthur Conan Doyle
A Tale of Two Cities by Charles Dickens
Alice's Adventures in Wonderland by Lewis Carroll
Around the World in 80 Days by Jules Verne
David Copperfield by Charles Dickens
From the Earth to the Moon by Jules Verne
Memoirs of Sherlock Holmes by Arthur Conan Doyle
Oliver Twist by Charles Dickens
Robinson Crusoe by Daniel Defoe
Swiss Family Robinson by Johann David Wyss
Tales of Terror and Mystery by Arthur Conan Doyle
The Adventures of Huckleberry Finn by Mark Twain
The Adventures of Sherlock Holmes by Arthur Conan Doyle
The Adventures of Tom Sawyer by Mark Twain
The Call of the Wild by Jack London
The Hound of the Baskervilles by Arthur Conan Doyle
The Hunchback of Notre Dame by Victor Hugo
The Legend of Sleepy Hollow by Washington Irving
The Lost World by Arthur Conan Doyle
The Mysterious Stranger by Mark Twain
The Prince and the Pauper by Mark Twain
The Return of Sherlock Holmes by Arthur Conan Doyle
The Sign of the Four by Arthur Conan Doyle
The Time Machine by H. G. Wells
The Voyages of Doctor Dolittle by Hugh Lofting
The War of the Worlds by H. G. Wells
Treasure Island by Robert Louis Stevenson
White Fang by Jack London
You can purchase these books on-line from Handango for $2.50 USD.

---
All software includes email support @ rim@underwaterlabs.com and free lifetime upgrades.



- Dive Funnies - Mosaic Images - Panoramic Images - Anaglyph Images - Links - Software - Hurling Machines - Geocaching - Legal Stuff
Web Page Design by Underwater Programming Laboratories © 2003
Last modified on: Friday, October 1, 2004
kwatson@underwaterlabs.com